Kalki is the Ruler and will execute Welfare Nation -Lord Shiva.
From Kalki Purana Political Chapter written by Agastya. Original Sanskrit palm leaves are not available now. Aadi Tamil translation is known as Nadi Palm Leaves. Read on 4 July 2013.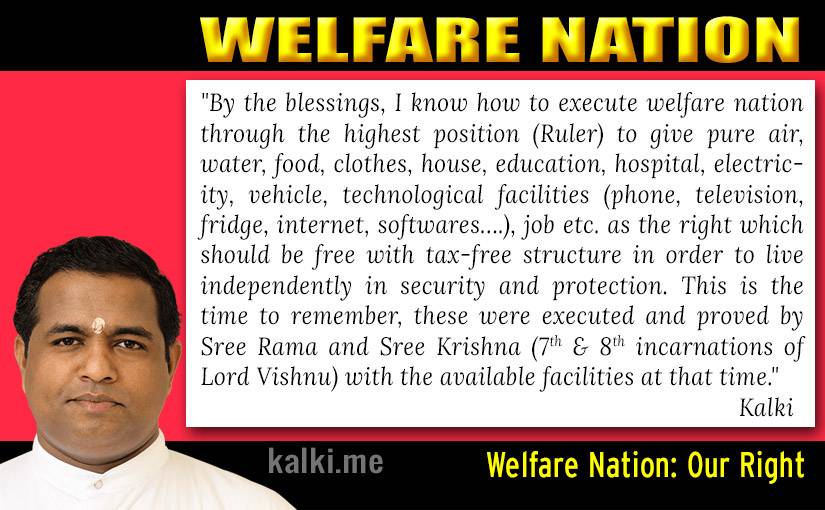 It is not a concept. It is our right, practical.
By the blessings, I know how to execute welfare nation to give pure air, water, food, clothes, house, education, hospital, electricity, vehicle, technological facilities (phone, television, fridge, internet, softwares….), job etc. as the right which should be free with tax-free structure in order to live independently in security and protection. This is the time to remember, these were executed and proved by Sree Rama and Sree Krishna (7th & 8th incarnations of Lord Vishnu) with the available facilities at that time.
Welfare Nation by Kalki published in Chithi & Kesari, official publications of BJP & RSS on 15 Sep & 17 Oct 2014. Visit: Kesari Weekly of 17 Oct 2014: http://kesariweekly.com/eweekly/2014/2014Oct17/index.html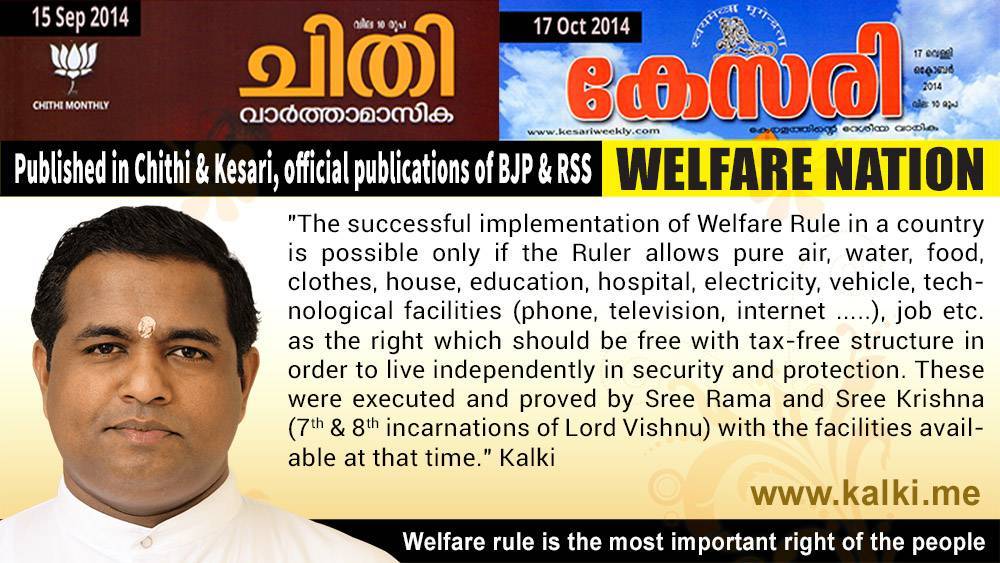 "Welfare Rule is the most important right of the people of a country, allowed by the position of Ruler" Kalki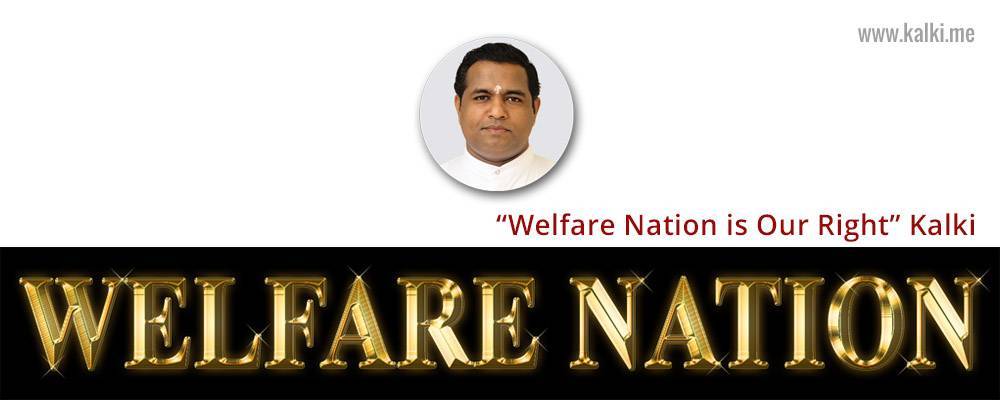 Divine Conversation Lord Shiva and Parvathi Devi about the official duty of Kalki written in ancient Maha Shiva Nadi Political Chapter (Arashial Kandom or Pothuvin Sevai Kandom) Palm Leaves by Agastya Maharshi. Important Aadi Tamil stanzas with English translation. Total stanzas: 22. Total lines: 88. Total words: 264 Historical evidence!! Political Chapter is the very special chapter with details. Address: KALKIPURI, Edavannappara, Malappuram(Dt.)-673645, Kerala, India. E-mail: kalki@kalkipuri.com.
Maha Shiva Nadi Political Chapter Palm Leaves of Kalki read on 4th July 2013. Nadi Reader: A. Sivasamy, S/o V.S. Arulsiva Arumugam at Vaitheeswaran Koil, Tamil Nadu, India.
Nadi Reader Sri. A. Sivasamy, English translators: M. Parthasarathy and Hemalatha Selvaraj.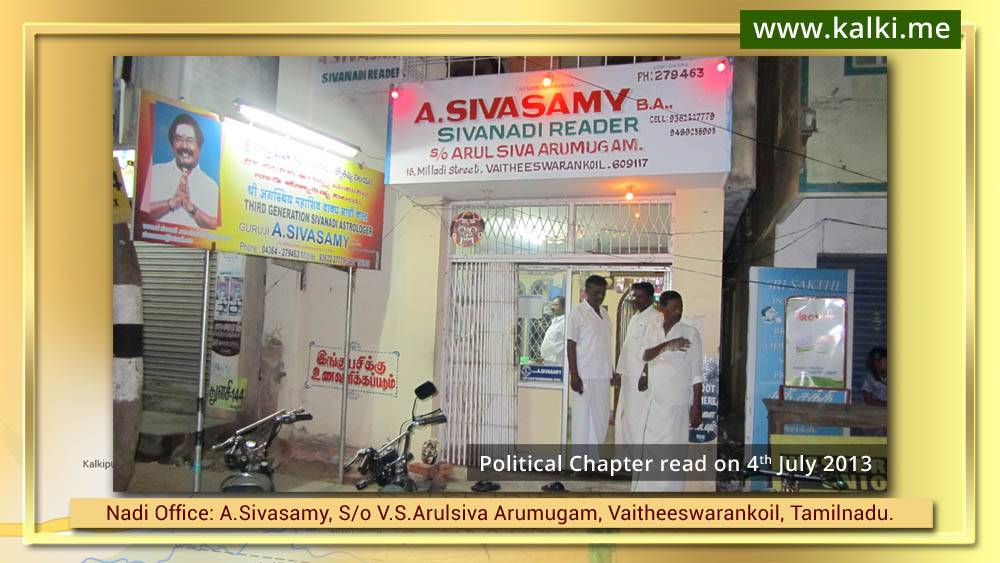 Important Aadi Tamil Stanzas
Amudanilai Aananda Tatwaththin
Andamellaam Thozhuthetri Arivenjan
amudavoli Sukshmaththin Ariyayinbam
Aadalathu Mangaiyudan Kalippaankondu
Kondathu Kopa AaveshaththuOppa
KothaiAval Thannahaththai Kurakkavendi
Pindamathum TheriyaOru Kaalumthookki
Pishahilla Nadampurinthu EeshaaPotri
Potriye Ponvaayaal ArulinMainthan
Bhuvanamathu Uyyave Kaalamthannil
Etrampere Udiththittaan Bahamoppe
Inimaiyathaay Maanudaththil Ehavazhakku
Ehavazhakku Oppave MudiyumVillu
Yerkkamathu Thookkathanil Korkkalbhavam
SugamKalki PerVilanke SaradaThaay
ShoolRama Vennayundon Aththanaahe
Aahavarum Kurippukalum SakshiOppe
Anbaahe PothuSevai VilakkamVendi
Vahuperum Adhikaaram Ezhayinbam
Valarchipere Thozhuthume NintraanBala
Balanikku Urakkave Aashivendi
Parvathiyaam Enakkume Arulaithaareer
Velayathu Kariyavanum Pahaimaara
Viruppamudan Vakiramum Nivarthikaane
KaanumNaal NeeUraikke Annainmbam
Gauravankal Uyarave ThadaihaNeenke
Venasugam Iruvidhamaay Anubhavankal
Virimbumvarai Aazhchisugam ArulvenYane
Arulmuthalum Punyankal DeviYenthan
Anbudane Malavanin Arulaikondu
Perukivarum Arbhuthankil ArivaayNeeye
Peshidave Kaalamithu EnnamPalvaar
Palvaarai PadaviSugam Viruvithankal
Paarpukazhe Keerthiyathu Adhikaarankal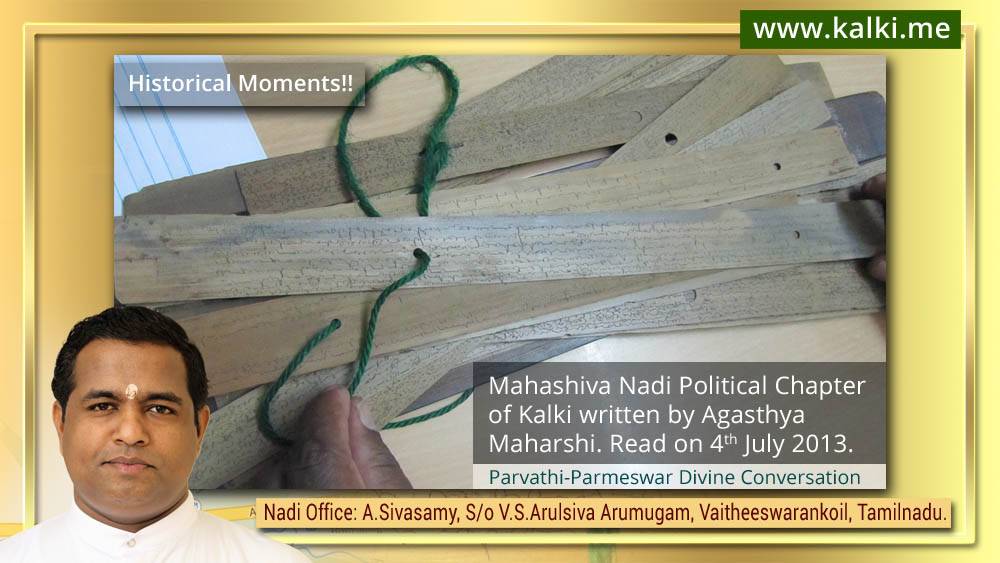 English Prose Translation
In ancient times, Parvathi Devi offers her prayer­ to Lord Shiva and requests to inform the official duty of Her beloved son for the execution of REAL WELFARE RULE. Lord Shiva accepts Her requests and informed. By the blessings of Lord Shiva, Agasthya Maharshi had seen the divine conversation in the meditation and wrote it in Sanskrit language on palm leaves.
Later, Tanjavur King Sarabhoji II (Serfoji II:1777-1832) in Tamil Nadu with the help of scholars translated to Aadi Tamil (old poetic Tamil) language and named it as "Nadi Jyothisham (Nadi Astrology)". But it is not Astrology or a part of Astrology nor it is prediction. Actually, Nadi Palm Leaves are the divine commands or real Universal Court Order about this earth by the Supreme Organizing Authority (Sarvadhikari) and Supreme Preceptor (ParamGuru) Lord Shiva existing in Shivaloka (one of the most important celrstial sphere- Jyothirgola). Each Aadi Tamil stanza have four lines with three words in a line. Read more
Divine conversation of Lord Shiva and Parvathi Devi
This son is our blessed son and he will be able to visualize certain things in the form of celestial light. This son has obtained the blessings from Lord Almighty. Lord Shiva blesses this son to find success in the Political field and to carry out the public service successfully. This son should be guided in the proper way to carry out the Public service without any problems. Parvathi Devi says he is the good soul born on this earth to carry out the service to the people. This son will be able to manage the mankind easily.

Lord Shiva will hand over the responsibilities to take care of Human beings. He is a special soul and he will guide the people properly by the direct guidence of Lord Shiva and Parvathi Devi. This son will be able to execute the Real Welfare Rule. He will find happiness and fulfillment.
This soul has connectivity to Aadhi Shivan (Supreme Authority Lord Parameswaran Shivan) existing in Shivalokam.
This soul has come down on this earth by the gracious blessings of Lord Shiva to keep the people in this world happy and for all the good things to survive. He has come down on this earth with high responsibilities and to do good deeds to the people and to remove their sins and to keep the living beings in a good way.
In this birth he has close connections with Lord Shiva. This son has come down on this earth at the right time to fulfill some responsibilities entrusted by Lord Shiva towards the people. This son has connection to Lord Shiva and Parvathi Devi. He has taken the births to do some good things whenever this world faces critical problems. He will guide the people to the right way. He will lead a happy and prosperous life.

He has taken birth but he is not a normal human being. As a human he has horoscope, Rasi (zodiac), Lagna (Point of intersection) and parents. This is very important evidence. His zodiac is Libra. His name is Kalki.
(The previous name Gopakumar and its signature was changed as Akhilananda Swamy with new signature by the Kerala Gazette dated 6th July 1999 and then again changed name and signature as Kalki with new signature by the Kerala Gazette dated 11th January 2000. No initial. Present name: Kalki.)
His parents are Ramakrishnan and Sarada. These are the evidences for tracing out the Political Chapter.
Kalki already knows about his Political life, but again he is reading these predictions to find clarity in his Political proceedings. When Kalki informed the reading time of his political chapter to some devotees on 3rd July 2013 at Kalkipuri, they requested him to get it read. In that situation, he reached at the Nadi Office, Vaitheeswarankoil to read his Political Chapter.

Kalki is referring the Political chapter not for his benefits. When Kalki exists in the Position of the Ruler he will execute the REAL WELFARE RULE which will help in uplifting the poor people in their life. This son is daily offering his prayers to Lord Almighty.
Parvathi Devi says to Lord Shiva, Kalki is My blessed son and I myself want to tell him about his Political execution as the Ruler, so You may kindly bless Me.
Kalki will have link in Politics and his reputations will increase. According to his desires he will be in the field of Politics. In the field of materialism, he is a Politician. But he is in spirituality. Both materialism and spiritualism are accomplished in him. He is a Politician and will execute the Real Welfare Rule but at the same time he is in spirituality. His Political services are the services to Lord Almighty.
Even though the people might think that he is a Politician but his dedicated service will be in the line of spiritualism. Even though the people have the idea about this son to shine in the field of Politics, his decision is very much important. This son always thinks that through his powers he may be able to render his support to the people.
Parvathi Devi says even though Kalki has obtained the blessings of Lord Shiva to carry out his works in the field of Politics, he should have the intention and decision for the implimentation and how long he intends he will be in the field of Politics. He will be entrusted with power in Politics and he will carry out his works successfully and the rest of the time he will spend in spiritualism. This son has already obtained the Grace of Lord Shiva with Parvathi Devi and Lord Mahavishnu. He will do many good deeds and charitable acts and he will lead a successful life.
This son will be able to realize the Miracles that took place in his life in the past, and he will come to know in the present and future. Kalki will come to know the future happenings.
This son will be able to realize the Miracles that took place in his previous life, and he will come to know in present and future. Kalki will come to know the future happenings.
This son has different ideas and thoughts regarding the posting in Political field. At present he wants some clarity in his proceedings but he need not be in state of confusions, he will hold around two to three Postings and he will enjoy all benefits. Because of his posting and high powers his name and fame will spread worldwide and he will get the recognition from the people. He will hold a high command in his positing and he will be ruling a Nation or Country.