If the original idol and portraits of Sree Rama and Sree Krishna are available, then will the present portraits and idols made by several artists and sculptures with different image, face, physical structures and colour be accepted? – Kalki
Humble salutations to the Supreme Genetic Authority (Janithakadhikari) Lord Brahma, the Supreme Organizing Authority (Sarvadhikari) and the Supreme Preceptor (Param Guru) Lord Shiva, the Supreme Protection Authority (Samrakshanadhikari) Lord Vishnu [for Genetic. Organize. Protect (G.O.P.)] existing in Jyothirmandal (the most important celestial sphere) Brahma loka, Shiva loka and Vishnu loka in the light form (Prakashaswaroopa – not made of five elements) with limitless eternal divinity (Swayamboo Chaithanya) to sustain as per the law, Equilibrium allowed by Sarvam (Parabrahma-The Whole). Sarvam exists as creation by self as per the law, equilibrium. Sarvam exists as One that which is all, complete (perfect), independent and the Supreme Authority." Kalki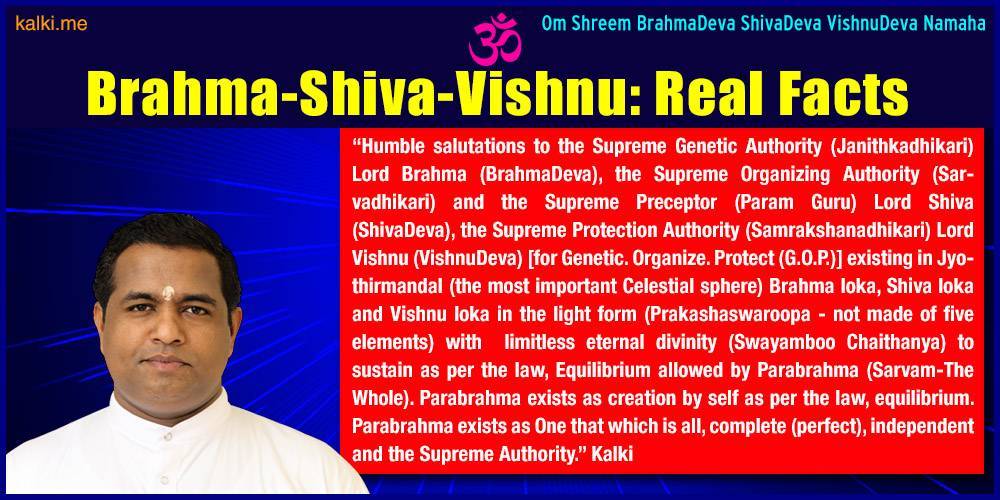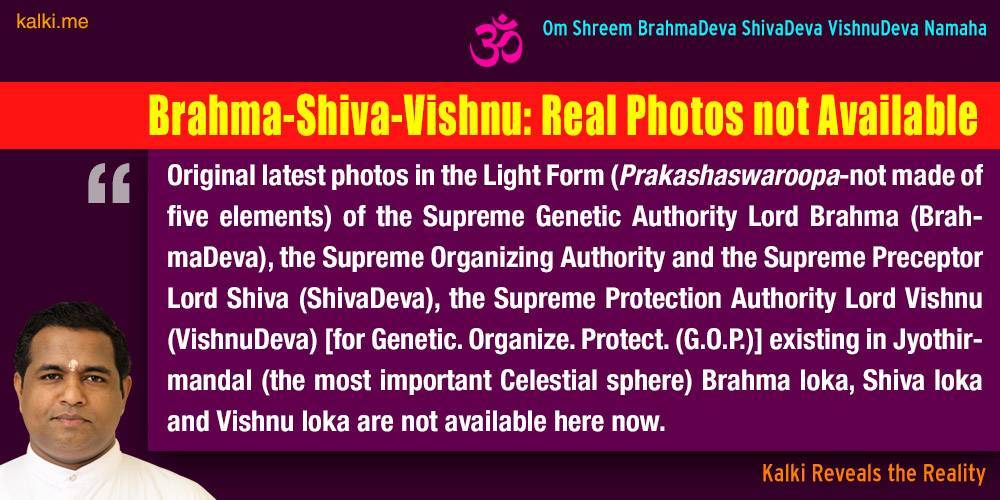 Original Photos in the light form (prakashaswaroopa- not made of five elements) of Lord Brahma, Lord Shiva and Lord Vishnu exists in Brahma loka. Shiva loka and Vishnu loka are not available here now." -Kalki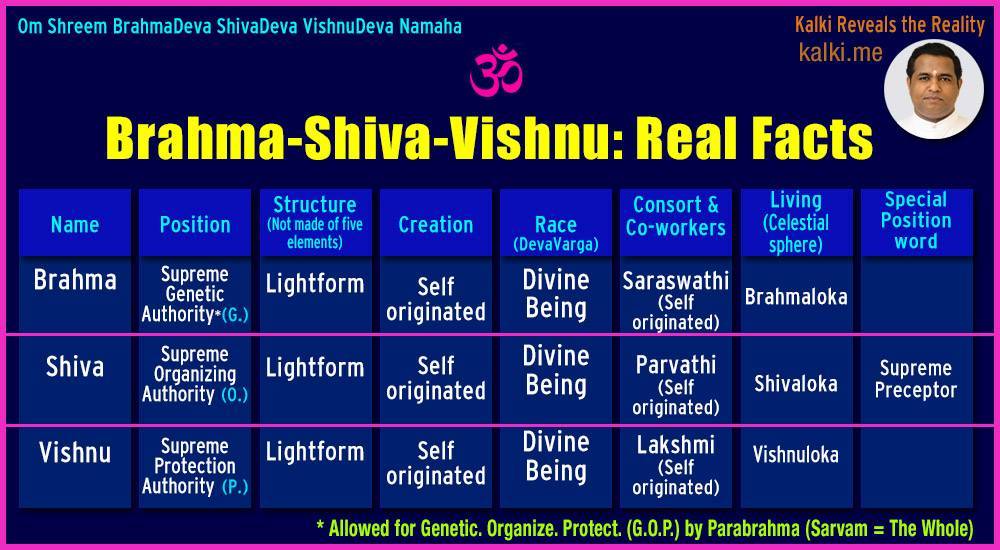 From an ocean of innumerable people, how can one man be distinguished from another? Though the general outward appearance may be the same, each individual has a distinct face, shape, structure, finger prints etc. It is only a universal truth that these factors differentiate one from another.
Sree Rama and Sree Krishna are the 7th and 8th incarnations of Lord Vishnu. But at the same time kings and humans. During their times also there were talented artists and sculptors. But the original statues and portraits of Sree Rama and Sree Krishna are not available now. So the artists used their imagination and portrayed in different forms, colours etc as Sree Rama and Sree Krishna.
If the original idol and portraits of Sree Rama and Sree Krishna are available, then will the present portraits and idols made by several artists and sculptures with different image, face, physical structures and colour be accepted?
If so then, is it that tough to mutilate the real history of Sree Rama and Sree Krishna by adding contemptuous and imagined stories?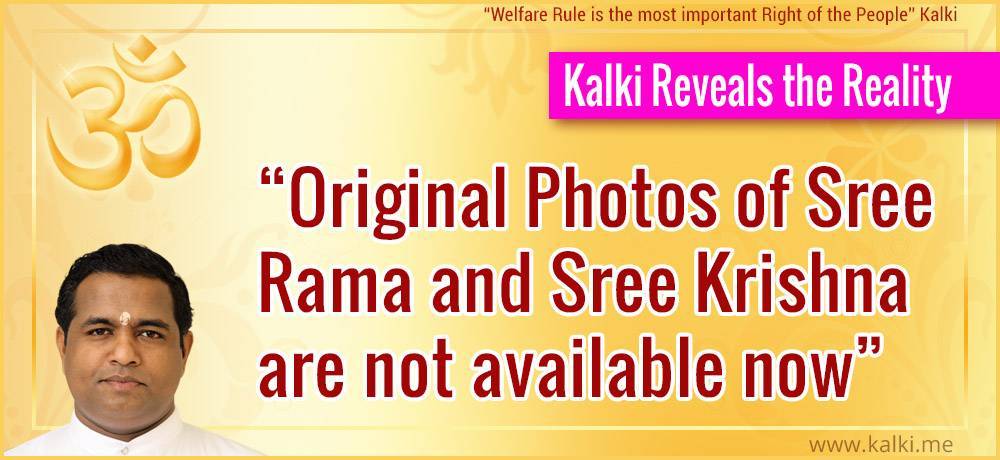 The real portrait of Gandhiji is available now then there is no need to draw any picture of his from one's own imagination and imagine as it is of Gandhiji, if so done then it will be a real disgrace for him.
It is contemptuous to think that Lords (Devi Devanmar) couldn't attain progression in this era of modern technology than humans. The Supreme Genetic Authority (Jenithakadhikari) Lord Brahma, the Supreme Organizing Authority (Sarvadhikari) and Suprem Preceptor (ParamGuru) Lord Shiva, the Supreme Protection Authority (Samrakshanadhikari) Lord Vishnu exists in lightform (Prakasha Swaroopa) in the self enlightened celestial sphere Shiva loka, Vishnu loka and Brahma loka (Jyothir Mandal). They allow blessings based on the belief, devotion, qualification and worthiness of human beings made of five elements (Panchabhoothatmaka shareeram) on this earth (Vayu Mandal). The Jyothir Mandalam Shivaloka, Vishnuloka and Brahmaloka are quite far from this earth (Vayu Mandal). Lord Shiva, Vishnu and Brahma are in the lightform (Prakasha Swaroopa), not made of five elements (Panchabhoothatmakam) and they exist in Shivaloka, Vishnuloka and Brahmaloka with most advanced technological progression which is unattainable by human. The devotees themselves have ignored this reality and it is impractical to think that the Lords still use weapons like sword, trident and bludgeon even in this modern scientific age.

Some still believe that Lords use sword, trident (trishul) and bludgeon etc. as their weapons , even in this technologically modern age. It is like those using old versions of software or like those unknown of the ban of 25 paisa in India.
So it is like ,not using the facilities provided by the software company and inturn it is a disgrace for the company by not making use of the new updated features, ignoring the research results of the company and finally not making use of the modern technology.
In the ancient period , humans used sword, Trident, bludgeon etc. but in this modern age humans are using the modern technological weapons. So does it mean that the Lords couldn't attain modern progression which the humans have attained or does it mean that Lords are not aware of the progression in modern technology and is that the reason why Lords are still using trident, bludgeon etc. according to the Hindu belief and thus propagating it.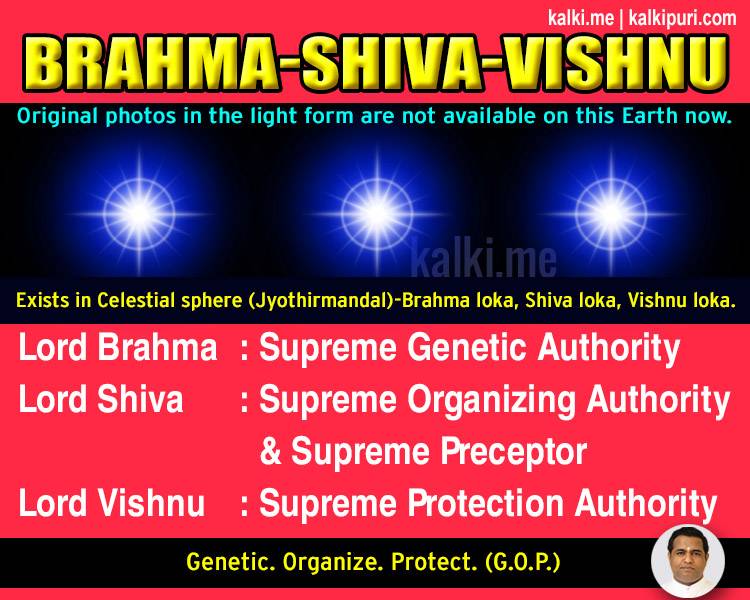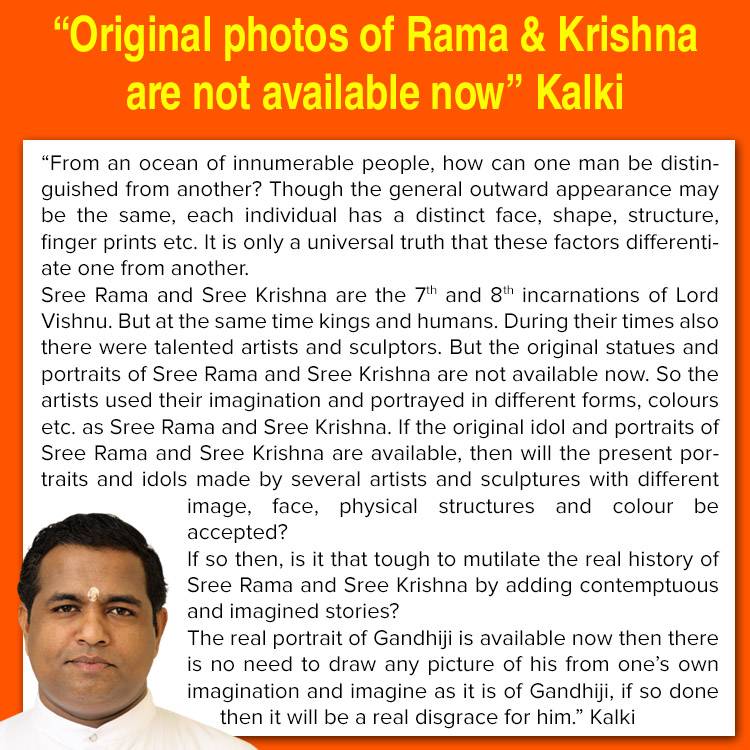 Renaissance of Hinduism (Devakarya – Lords matter). Kalki has designed Insect Free Bronze Oil Lamp (Patent Pending) for the Renaissance of Devakarya (Hinduism – Sanathana Dharma) as per Lords Rules (Davahitham). Kalki obtained two design patents for Insect Free Bronze Oil Lamp (Design Patent No.225592) and Bronze Conch (Design Patent No.225593) from Indian Patent Office, Kolkata on 16 & 18 June 2010 [See Page Nos. 40 (2888) & 41 (2889) of Indian Patent Office Journal (Design) 11 Feb 2011 ].
Kalkipuri Insect Free Bronze Oil Lamp (Patent Pending)
Bronze lid with special arrangements for oil Lamp to make it insect free. Patent pending. Design patent No.225592. Newly modified design patent protected. Inventor: Kalki, Kalkipuri, Edavannappara, Malappuram-673645, Kerala, India. kalkipuri.com.
"Impure oil in the bronze lamp (due to the fall of insects) and Conch (outer covering of an oceanic living organism and the remnants of bones ) should not be used for worship"

– Kalki
(To be continued)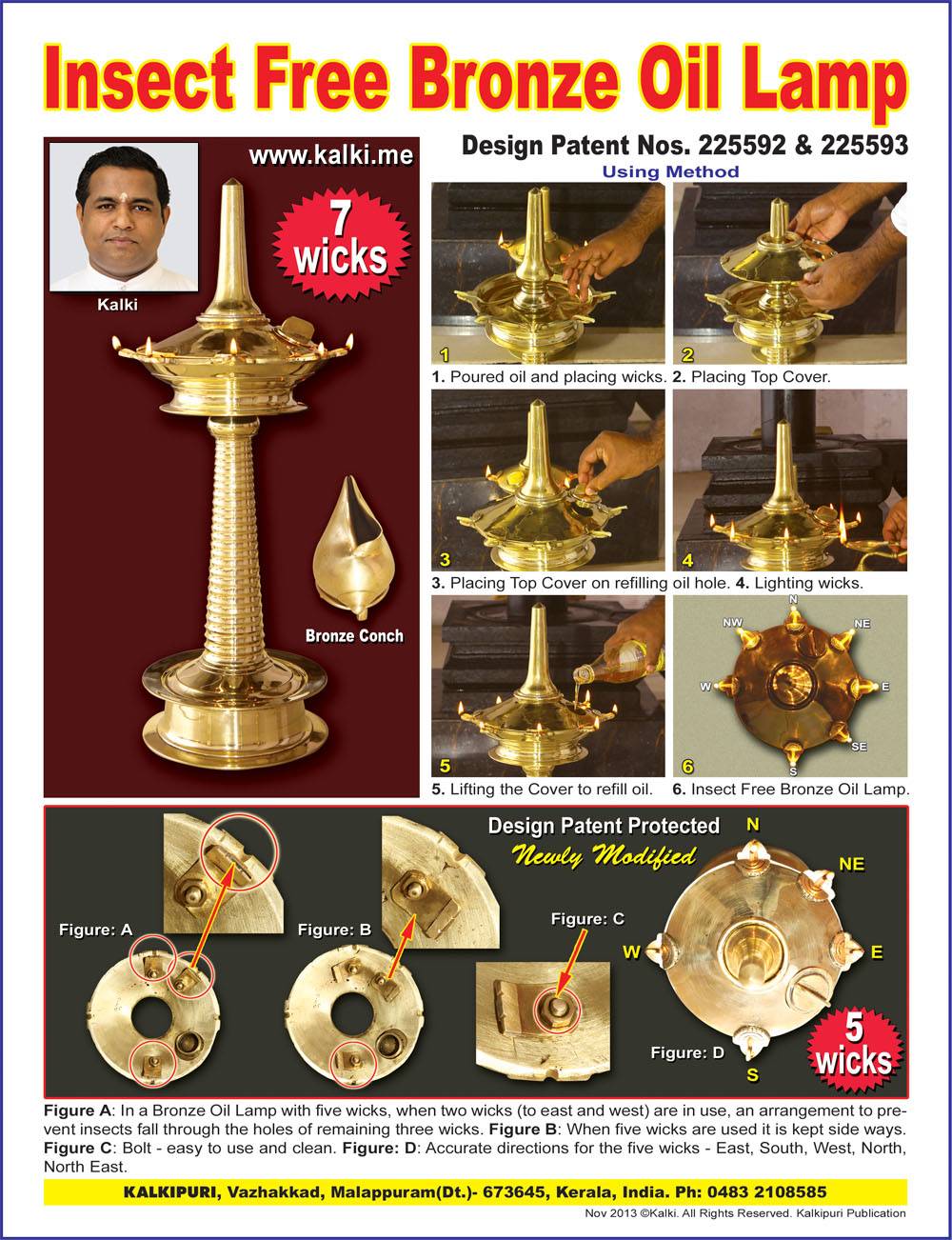 Hinduism: Real Facts – #Kalki : https://t.co/b3FuFmqxTQ pic.twitter.com/6tBHbQ0L2z

— Kalki (@KalkiOfficial) January 12, 2016